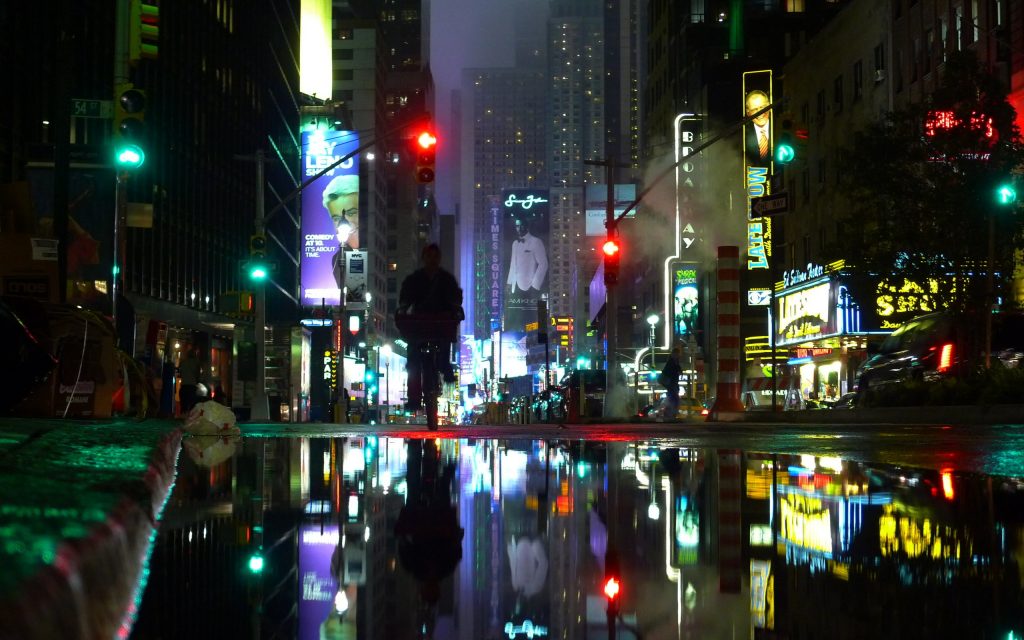 If asked, some photography whizzes will say that the best time to shoot the city is during wee hours. They may not be wrong anyway. During the early hours of the morning, it's possible to use the most iconic city places as background without worrying about the photos getting overcrowded by unwelcomed guests. Also, the soft morning light rays create an incredible aura that transforms the city to more beautiful scenes. The truth, however, is that the perfect time to shoot the city is at night. At this time, most iconic city destinations are empty and the city looks more dramatic, modernistic, and candid mostly due to the dark sky glow and the tones of blazing artificial light illuminations. You don't necessarily need to be an expert photographer to take beautiful and timeless city photos at night. All you need is to get the necessary photography equipment, know the tricks to shoot the city at night and get the best image editor. Let's take some minutes to discuss the tricks to shoot the city at night so that you can create the most blazing and timeless photos.
1. Use A Tripod It's not a legal offense to shoot without a tripod but the errors and mistakes you create when shooting the city during night hours without one can neither be erased nor mutated. Once made, you just have to put up with them. At night, most scenes are low in light and as we all know, for the best shots to be made, the shutter speed should be low. Shooting at speeds under 1/60 per second while holding your camera in your hands often generate blurred images. Most night city shots require the shutter speed to be set at 1/10 a second and 3 mins. This depends on the brightness level of the scene being shot. To create the most awesome shots from different city scenes at night, you are advised to utilize a lightweight tripod that includes a ball head. You may need to use a wireless remote, camera's self-timer, and a cable release to keep the shutter-caused vibrations low and maximize picture quality and vividness.
2. Shoot In RAW Format Shooting nightscapes in RAW format are one of the best expert tricks you can't live without if you love shooting at night. To shoot attention-grabbing and timeless images in the RAW format, you have to use a mirrorless or DSLR camera. By shooting in the RAW format, you create high-quality images that can easily be adjusted with the aid of the best photo editor like adobe camera Raw or Luminar photo enhancer in order to deepen the photo shadows and highlights. Nightscapes are widely known for having light blown-out points and deep shadows so by shooting in RAW format, you can be sure that you will get fine and quality shoots with minimal to no commitment. RAW format image files are usually very large so make sure your camera storage is enough before you set your camera to shoot this way.
3. Jiggle around with Camera Settings In every night scene, the lighting will differ. So, you can't use the same camera settings and expect to get fine and quality shots. You must readapt and adjust the settings constantly based on the lighting in the scene you are shooting. The images shot at 8:00 pm will extremely differ from those shoot at 12:00 am. This will as well be the case with photos shoot in busy main streets with those shoot in dim narrow passways. Play around with your camera settings as much as you can to ensure you shoot best photos in every scene and place. Adjusting the camera settings often may seem scary and tricky but if you get used, you will be enjoying every bit of it. There is no special formula on how to shoot night scenes. Your flexibility and courage to change with the scenes will determine how great the shots you make will come out. Take your time to master the art of adjusting camera settings to shoot in different night scenes if you want to make the best shots ever.
4. Turn on The ISO ISO determines the light sensitivity value on your camera settings. When the ISO settings are higher, the camera captures quality photos faster. But keep in mind that when the ISO settings are high, the shot is a bit noisy. As you keep increasing the ISO level, the noise in your captures will be higher and the quality of the photos will keep increasing. You should not worry about noise as your desire is to shoot premier pictures and preserve all your moments in the best way ever. Everybody has their preferences when it comes to the ISO settings but for the best results, you are advised to use ISO higher than 1600 when shooting with a camera that uses 35mm f1.8 lens and can be adjusted to a higher aperture priority. Adjusting the settings often will enable you to familiarize with the ISO settings needed for shooting scenes with different lighting conditions.
5. Never Use Flash The camera flash adds to the brightness of your photos to create more outstanding images that are naturally attractive. However, using a flashlight when shooting at night is not recommended since it makes the photos look artificially lighted, adds blurriness to your photos, and makes the subjects to have red-eye. If you know don't know, that means that your photos will not have the qualities that make them timeless and memorable. In some instances, shooting with the flash on can end up making you attract unnecessary attention. This is because such light makes those being shot to notice something can end up making them react since you will obviously be invading their privacy. The flash will make your shooting actions to be noticed hence making you a target. You will be astonished at how people will start talking about you. Some will end up questioning your intention for shooting them which can cause unnecessary fights.
6. Use Lens with High Aperture Your camera lens determines how fine and vivid your shots will be. You cannot just use any camera lens and expect to get sharp and vivid photos. You must get the perfect choice of lens that is incredibly fast. In short, you must use a lens with wide aperture and higher F- numbers. For the lens to capture an image, light travels first through the aperture and then to the image sensor. The bigger the lens's aperture, the lighter it accepts and the better it can capture images in low light settings. To shoot more professionally and get high-quality pictures you need to use a lens that has f/4 though faster options like the ones with f/2.8 will deliver sharper and more outstanding pictures. Expert photographers recommend that you get several lenses if you want to have better city nightscape shooting experiences. This is because not all places and scenes will require the use of the same lens's aperture and f- number.
7. Angle-Adjust Your Shoots Shooting at night involves more than just being creative and inventive. You need to have the technical knowledge on how to position your camera so that it can make the most outstanding shoots ever. You have to position your cameras properly so that you can only shoot your subject of interest and keep off from shooting wrong subjects to attract unnecessary attention that can disturb your photo framing. It is highly recommended that when possible, you use the available environmental light. Don't forget that even the most insignificant lighting adjustments can end up making a great difference when you later decide to use an image quality enhancer. It is good to spend the time to move your subject of interest around by rotating it to identify the perfect angle. You may have to tilt your camera around so that you can recognize the special angle at which you are sure to make the most outstanding shots that will create lasting memories. It is important to take extra care when shooting. Avoid positioning your camera towards shiny objects as they will likely mess up your shot if the lighting condition is dim.
8. Light Up Your Scene Light is the core of shooting vivid and sharp-looking pictures. The absence of adequate lighting will result in poorly lit and dark images which are hard to detail and adjust. Although there are light illuminations in most city scenes, some natural scenes will not have enough lighting. For instance, to shoot the soft moonlight landscapes and starry skies in the city, you will have to provide artificial background lighting to outdoor the otherwise polluted city light conditions. It is quite different to focus most cameras to shoot in low light conditions. You will need to keep adjusting the settings manually in order to realize sharp and vivid shots. The most interesting thing is that you can light up your subjects of interests by running the scene with a flashlight while making long exposure shots. To maximize your safety while illuminating with a flashlight, you have to ensure that you keep moving and avoid illuminating yourself with the flash. Taping your flashlight with photography gels to provide multiple color effects will enable you to make the best shots ever.
9. Adjust White Balance Manually Setting your camera to automatic white balance can greatly affect your picture quality depending on the lighting conditions and scenes you are shooting. When shooting remote areas where there is little light pollution, the shoots will be decent since it aids neutralize the colors to create more vivid and sharp pictures. However, when shooting in dark and low-lit conditions, the automatic white balances end up making your photos look blurred and unattractive. The perfect white balance settings often depend on the light pollution available and the darkness in the scenes you are shooting. That's why it is highly advised that you consider adjusting your camera white balance settings manually as this gives you the opportunity to adjust the settings to your preferences so that you can create the most fascinating shots ever. Take your time to familiarize with different white balance settings to avoid making mistakes.
10. Be Creative Knowing the necessary gear and the best way to set your camera so that you can create the best shots is great. It is the way of creating pictures you like and others admire. However, your level of creativity will carry the day when it comes to capturing your subjects more professionally. You must know when to shoot and how to angle-out your camera and tripod for the shoots to be inventive and creatively look. You must as well know what makes a picture intriguing and of great quality. That way, you will be in a perfect position to photography your scenes of interest professionally and create timeless photos. Conclusion Shooting at night is fun and interesting if you know the rules of the game. You can't just wake up one day and decide to go shooting. You must first take time to learn the rules to be followed and the tricks to shooting more professionally. Above, we have given a list of the top 10 best tips for anyone who wants to shoot the city at night like a professional. Before you go shooting, it is important to keep in mind that even with the best equipment and skills, you cannot shoot extra outstanding photos that would not require adjustments. Every photo will have some elements that would require modifications and that is where the world's best image quality enhancer comes in.